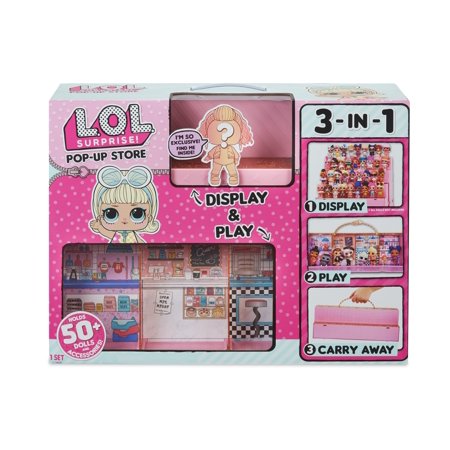 LA loves L.O.L. Surprise dolls but whilst we do our best to keep them and their teeny tiny accessorises all together the inevitable shoe up the vacuum always ends up happening at some point.  We've tried plastic storage boxes, shoe boxes and keeping them in the balls, but ultimately LA has always wanted them to be on display. The problem with this is that their feet are tiny and they always fall over.
When I was told that there was a new storage unit available that was also a display stand, carry case and play place I knew that it sounded just like what we needed. However, the price tag of £39.99 I wasn't sure whether it would be worth it.
The L.O.L Surprise! Pop-Up Store holds over 50 dolls and accessories which provides a fantastic storage solution. The Pop-Up Store also comes with an exclusive, mystery L.O.L Surprise! doll.  The case itself is an adorable powder pink colour with gorgeous gold sparkly detailing. It comes with a handle you can attach so you can carry the case around with you wherever you go. The first thing we found when we opened up the play set were some surprises hidden in the drawers, in the form of the limited edition Instagold L.O.L Surprise! doll.
Inside the Pop-Up Store there's a pizza parlour, hair salon, a cafe and a pet shop for your dolls to visit. There's also a fashion boutique where your dolls can change their style or browse for a fab new outfit.  There's also a little bathroom and bedroom area with a cute little mirror and storage drawers that double up as beds for the dolls to sleep in.  The set itself is made from really good quality strong plastic, it feels durable and flimsy, unlike most modern day toys.
When you've finished playing with your dolls the set turns into a handy display stand, this was La's favourite part and there are feet sized indents so your dolls will stand perfectly on the display. However, you do have to be careful which dolls stand next to which as it can get quite cramped on the stand. Or you can attach the handle and use it as a carry case to take your favourite dolls everywhere you go.
L.O.L.! Surprise Pop Up Shop is avalible from Amazon, Smyths, Argos, and all other good toy retailers.