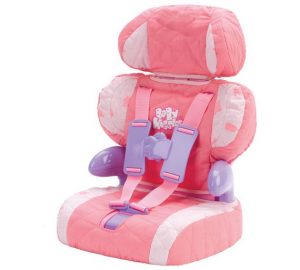 Baby Huggles Car Booster Seat allows you to bring your doll everywhere with you! Your doll is kept perfectly safe and secure by a 3 part harness with hand shaped buckles that secure to the cars seat belts. This uniquely styled toy booster seat can promote car safety and will quickly become the toy that never leaves your child's side. Dolls deserve it! Suitable for doll sizes up to 46cm (Doll not included)



LA loves taking her dolls everywhere and that includes in the car and she always wants to clip her baby into a seat, and this Casdon Baby Huggle Car Seat is a perfect way for her to do that. It is really well made from strong sturdy plastic and is quick and easy to install into and remove from a car. It is also really easy to clip baby into the seat and take them out, so your child would be able to do it themselves.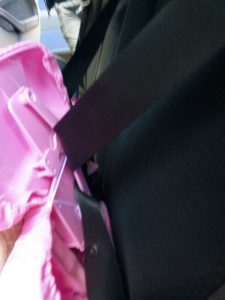 The Casdon Baby Huggles Car Seat is very well made and is very good value for money, especially as it also encourages car safety.
Disclaimer: We were sent this toy car seat for the purposes of this review. All words are my own.