This afternoon if you were on twitter between 1-3pm you may have noticed that I co-hosted a Doc McStuffins twitter party. This was my 1st time co-hosting one of these events and if I said I was slightly nervous it would be a very big understatement. However I don't know what I was worried about, we all had so much fun.
After welcoming our guests and letting them look at the range of Doc McStuffins toys there were to play with we played our very 1st game, The Doc mcStuffins speed scrubs dress-up which was a cross between musical chairs and pass the parcel. The children all passed Doc backwards and forwards along a line until the music stopped. Whoever the was holding Doc when the music stopped hadd to speedily dress themselves in Doc's scrubs and flashing shoes before the music restarted to win a prize.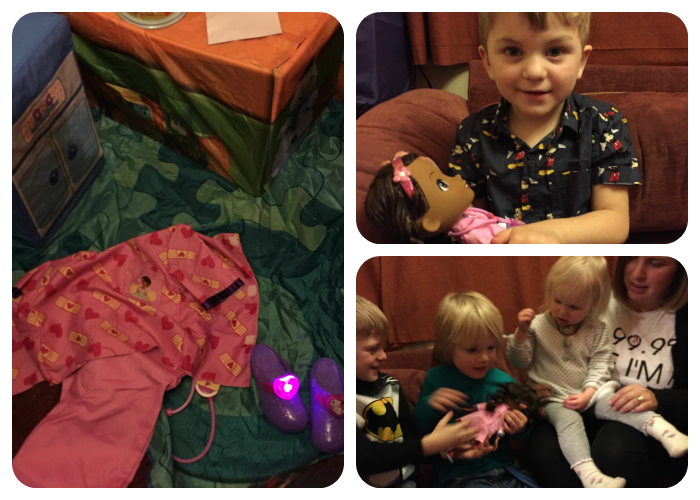 The Doc McStuffins and Sofia the first prizes were loved by all the kids
The older boys then played a game of dentist tic tac toe while the little ones  had extra time to eat and play with the toys.
It was then time to have some serious free play with the Doc McStuffins toys.
We then tested our eye site before making our very own Doc McStuffins eye check charts.
Noah in the top left hand corner had being feeling very unwell, but managed to join in with a little bit of crafting. Unbelieveably it was soon time for the party to end and for our guests to go home, buy they all had so much fun and the goodie bags meant home time was made even more exciting. 
Each child each received a giant Doc McStuffins poster, but the children thought that it might be nice if they were able to share the party fun by donating the posters to the local hospitals children's ward.
We really enjoyed being Doc McStuffins twitter party co-hosts and would love to host another soon.
Disclosure: I received all the items needed for this party in return for tweeting along and writing about the party.