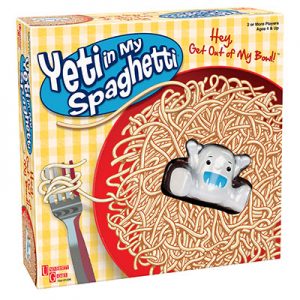 "A wacky game for children, Yeti in my Spaghetti is the latest addition to the University Games portfolio of fun family games
Spaghetti noodles are laid across a bowl whilst the spaghetti-loving yeti sits on top. Using one hand, players take turns carefully removing the noodles one by one, but watch out, if you're not in control the yeti could fall into the bowl, and that would mean you lose!
In this fun-to-say and fun-to-play game of balance, the last player to remove a noodle before Yeti falls is the winner. Squeals of laughter and excitement are guaranteed with this fast paced and easy to understand game.
Yeti in my Spaghetti is available for SRP £14.99, suitable for ages 4+ and 2+ players. Each game comes with over 1 Yeti, 1 bowl, and spaghetti noodles"
If you want to win your copy of Yeti In My Spaghetti enter here