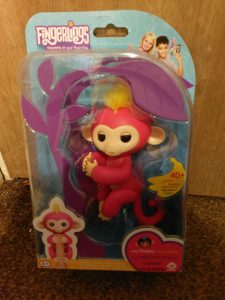 Rings are cute, but monkeys are cuter. Enter Fingerlings, by WowWee, a wearable and adorable baby monkey companion created just for kids' fingers.
These tiny robot monkeys are meant to be worn on the finger and serve as a pal. Each little monkey has cupped arms and legs forming a slot in which kids can place their finger. Fingerling monkeys also have a curled tail that forms another opening for kids to link their finger in. The best part is, that if kids turn their hand upside down with the Fingerling attached, the Fingerling will cling tightly. LA also likes attaching it to her bed at night so it can keep her company.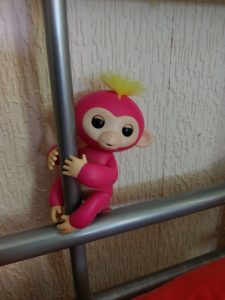 Fingerlings have more than 40 realistic monkey sounds every time they feel movement and sometimes even without movement. Through the cap sensors located on the top of their head, they are able to pick up motion. But even if you take the Fingerling off your the finger and lay him down elsewhere in a motion-free zone,  he'll start chatting away to remind you he's there and wants you to play.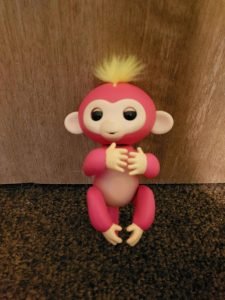 So how do you play with a monkey that lives on a finger? Blow him kisses and he will kiss back! You can also clap in front of your monkey, pet his head, and cradle him to sleep. Fingerlings will react to everything. Take a look at the video for everything they can do.
These adorable monkeys are well made and offer hours of play, there are 6 to collect each with their own personalities, and at £14.99 each it would be easy for a lot of children to save their pocket money and buy their own.
Disclosure: We were provided with a fingerling for the purpose of this review, all words, pictures and opinions are our own.