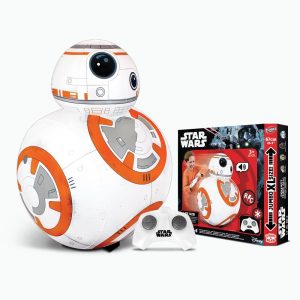 This R/C inflatable life size version of BB-8 from The Force Awakens is the biggest BB-8 unit on the market and features great sound effects from the movie. He sits an impressive 67cm tall, which is the exact same size as the real BB-8, and has full function control so he can follow you wherever you go! It has several built in sound effects and can be used both indoors and outdoors. BB-8 has a driving range of 30 metres which makes outdoor play a lot of fun. It has a 2.4GHz Radio Control with the ability to drive Forwards, backwards, turn left & right, and spin on the spot. It is worth noting that it requires 4 AA batteries and 1 9v battery.
BB-8 is easy to set up
Install the batteries
Attach the drive unit
Inflate BB-8
Turn on the controller and BB-8 and away you go.
The life size inflatable BB-8 is very easy to drive and runs smoothly on both carpets, and outside, and the movement feels very authentically droid like. If you should manage to tip BB-8 over its okay because he can self-right, but he's that easy to control he doesn't do that very often. The inflatable feels very high quality and feels like it would take a lot to puncture him, however, it does come with a puncture repair kit just in case. We have had a lot of fun playing with BB-8, but if he isn't your favourite star wars character there are other remote control inflatables in the range, Chopper, Yoda, Darth Vader and R2-D2.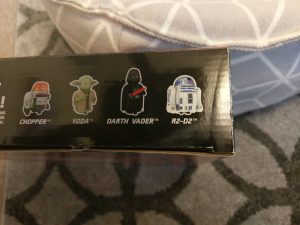 LA had so much fun playing with BB-8 and said that it was very easy to drive and she felt like she was Rey, so much so that she has added a Rey costume to her Christmas list to make her star wars play more realistic. She also liked the sounds that he makes and she loved the attention it got when we tested him out on the carpark of our block of flats.
Disclaimer: We were sent this remote control inflatable BB-8 for the purpose of this review, all opinions are my own.