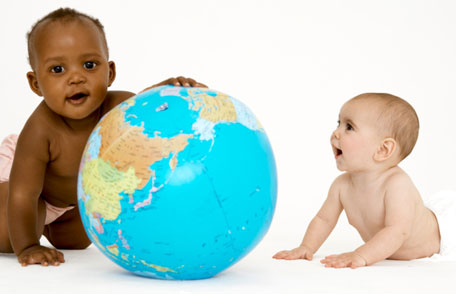 There isn't one fool-proof technique to parenting, but cultural differences do have a huge impact on how families around the world parent their children. Whether it's avoiding a regular evening routine like Spanish parents or encouraging children to eat "adult food" from the get-go like in South Korea, for International Families Day on 15th May, Bupa Global shares insight from parents around the world:
Asian & African countries
Japan: Co-sleeping for closeness
While many Western cultures place their babies and toddlers in a separate room at bedtime, co-sleeping is a common practice in Japan. By responding immediately to a crying child and holding them almost constantly, the practice is intended to promote a sense of closeness and security. It also makes feeding overnight much easier.
South Korea: Eating by example
Rather than cooking 'child-friendly' meals, South Koreans don't distinguish between the food they serve to children and adults. Instead, everyone in the family sits down to enjoy breakfast, lunch and dinner together, with the aim of encouraging closeness and exposing children to a variety of different dishes and ingredients.
Kenya: An indirect take on parenting
The Kisii people of Kenya believe there is huge power in eye contact, and that by looking at a crying baby they're handing over control.  In a move that may sound odd to Westerners, parents will avert their eyes to avoid their unhappy baby thinking he or she is in charge. The rationale behind this method is that it makes children less attention-seeking as they develop and grow.
China: Toilet time on cue
By swapping disposable nappies for environmentally friendly versions, parents in China regularly succeed in toilet training their children quickly. What's their secret? As soon as parents sense their baby needs to relieve themselves – perhaps from a physical movement or facial expression – they hold them over the toilet while whistling or repeating a particular word or sound. By using this same vocal cue on each occasion, the baby learns to respond accordingly. This is known as 'elimination communication (EC)'.
European Countries
Scandinavia: Fresh air always
It might look a little alarming to foreign visitors, but it's not unusual to see babies sleeping outside cafes and restaurants in rural locations across Denmark while their parents keep a watchful eye from inside. This is to expose their children to as much frisk luft (fresh air) as possible, as most Scandinavian countries believe that cold temperatures and pollution-free air are essential to an infant's health. At Norway's state-subsidised day care – barnehage (kindergarten) – youngsters are wrapped up in warm clothes and blankets and wheeled outside in their prams and pushchairs to take their naps.
Spain and Argentina: Night-time toddlers
While parenting experts might champion the importance of sticking to a regular routine during a child's formative years, some cultures choose to prioritise the social and interpersonal aspects of development. So instead of an early bedtime, many babies and toddlers in Spain and Argentina join in with their parents' evening activities.
France: Mais 'non'
The dominant parenting philosophy in France can be summed up in just one sentence: "C'est moi qui decide." By regularly telling children "It's me who decides", many French parents seek to establish themselves as the boss. This disciplined approach aims to teach children from an early age that the world does not revolve around them.