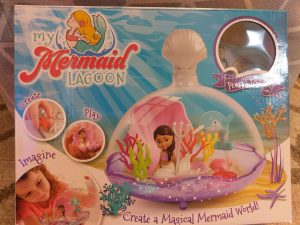 Create a magical mermaid world where Mermaid Pearl and her narwhal friend love to live!
Mould, sculpt and play with the glittery magic sand and use corals, shells and other accessories to create an enchanting 'under-the-sea' scene in a beautiful bottle with a pretty shell-shaped stopper.
Take Pearl anywhere, carried safe and snug in her clamshell home that fits perfectly into a pocket.



LA had a lot of fun creating a magical scene with Mermaid Pearl and the narwhal, she said that the sand felt very nice to play with and that it was like kinetic sand. She struggled a few times to get the sand sculptures she created out of the moulds but said that made it more fun.
The display bottle and base are really well made and feel very sturdy, the colouring on the coral is really bright and looks fantastic, the only real problem that we had was that the narwhal was quite difficult to keep stood up and the slightest knock would cause it to fall over.
• 1 x Display Bottle Base
• 1 X Display Bottle Lid
• 1 x Display Bottle Stopper
• 1 x Pearl Mermaid Figure
• 1 x Mermaid Shell
• 1 x Narwhal Figure & Stand
• 1 x Trident
• 4 x Sand Moulds – 4 Different Designs
• 4 x Seaweed and Corals
• 1 x Bag of Magic Sand
• Colour Activity Booklet
For Ages 4 years + Not suitable for children under 36 months due to small parts that may represent a choking hazard.
Disclaimer: We were sent this set for the purpose of this review