Before I start this review of L.O.L. Surprise!, let me first apologise for the quality of the photos, LA has been poorly this week and as such wasn't really in the mood to stand still while mummy took her photo. Now on to the review!
L.O.L Surprise! is a new collectable 'Blind Bag' toy, which has taken the U.S.A by storm, however unlike most blind bag toys L.O.L Surprise has seven layers to unwrap before you get to the main toy meaning the fun last longer.
1st Layer – Secret Message
2nd Layer – Emoji Stickers
3rd Layer – Baby Bottle 
4th Layer – Pair of Shoes
5th Layer – Awesome Outfit
6th Layer – Fashionable Accessory
7th Layer – L.O.L. Surprise! 3-inch doll – the ultimate surprise.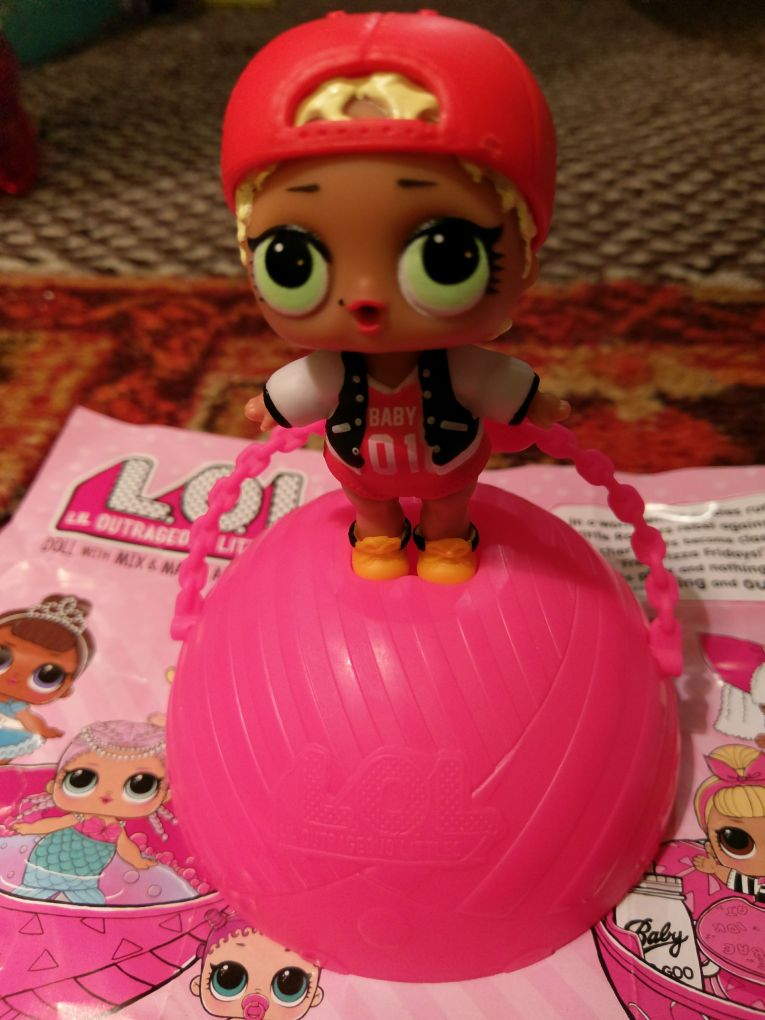 and of cause you also get the obligatory flyer.
Each doll comes in a plastic ball which you unwrap layer by layer, before finally reveling which doll you have. However the fun doesn't stop there, the ball then becomes a baby bath, baby hangout zone, handbag and doll display stand.  Once you have unwrapped and dressed your doll fill the baby bottle with water and feed you doll and then you'll get another surprise your baby will either spit the water back out, cry, or wee and if none of those happen dip her in water and she'll change colour. There are over 45 of these dolls to collect with the tiny ones being know as 'premmies' (I'll get back to that later) and they have a recommended retail price of £7.99 each so at the higher end of the blind bag price range.
When LA opened the L.O.L Surprise!, She loved it and was very excited with the fact that there was more than one layer to open, she said it was like playing a game of pass the parcel on your own, I however was not that impressed with it for a price tag of £7.99. The ball felt like it was made of very cheap plastic and was hard for LA to fit it back together. The doll was a little weird too LA uncovered M.C. Swag who wees, and wears what looks like a maternity top with the word 'Baby 01' on it and a baseball cap with the word baby on it. I'm not quite sure who thought that that would in any way be okay and not at all creepy, along with this I also have a problem with the tinier babies being called 'Premmie', Premmie is generally a term used to describe premature babies, who can be very sick and generally need to spend an amount of time in a Neonatal Intensive Care Unit – this is not a word I would want to hear being banded around a school playground and is certainly not something I wish to be explaining to my 4 year.
Having said that you do get a lot of play for your money when you compare L.O.L Surprise to any of the other 'blind bag' surprise toys on the market, it is also its own self contained play set and  LA with be able to quite happily play with M.C. Swag on its own if I wasn't to buy anymore. The doll itself is also quite a good size and of quite decent quality, and kids will like it.
*Disclaimer: I was sent this product F.O.C for the purpose of this review.