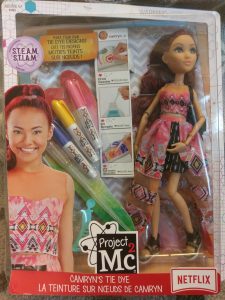 This Doll and experiment set comes with a Camryn doll, a comb shaped like a conical flask, 3 permanent markers and a pipette, you need to provide your own clothing to design (white cotton works best) and also your own rubbing alcohol. The doll is a fairly generic barbie type doll which looks great but the right hand dropped off a few times whilst being played with.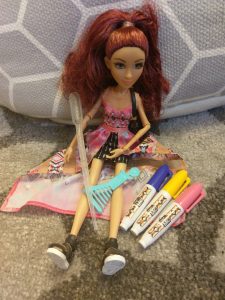 The experiment was fun, quick and easy to do, although I'm not 100% sure what the science was behind it. We designed a T-Shirt but you can use any white cotton item – pumps, trainers, tote bags etc. It is worth noting that you can use any permanant markers for this experiment.


Project Mc² is on an important mission to help advance girls in the areas of S.T.E.A.M. (Science, Technology, Engineering, Art and Maths). Project Mc² is loved by both girls and adults for the fun experiment sets, fashionable real-girl inspired dolls and Emmy nominated Netflix original series. Seasons 1, 2, 3,4 and 5 are streaming now on Netflix. Project Mc² also empowers girls to explore S.T.E.A.M related themes in a way that's relatable and engaging to them. The Project Mc² brand believes "Smart is the new Cool" – and wants girls everywhere to celebrate it!
I like the idea of Project Mc² and getting more girls interested in the areas of S.T.E.A.M., however, this range of toys doesn't really sit well with me because the whole range of 'experiments' are fashion based. I really would like to see a science set that is aimed at getting girls interested in S.T.E.A.M. projects that isn't fashion based, but based more on real science.
Disclaimer: We recieved the Doll with experiment for the purposes of this review all opinions are my own.