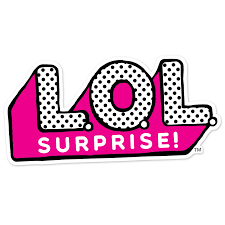 A few months ago I was sent a series 1 LOL doll to review, it promised so much but as you can see if you read the review it didn't really deliver those promises. So when I was told that it was such a popular blind bag collectable in the UK even though it had a price point of £9.99, it sold out everywhere I was very shocked; but also very interested to see if I'd missed something.  So when I was asked if I would be interested in taking a look at a series 2 LOL doll I thought it would be interesting to see if they'd improved in value at all.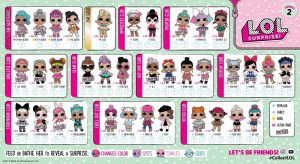 There are 36 dolls in the series 2 collection – 20 Popular, 11 Fancy, 3 Rare, and 2 Ultra-rare 1 of which is a super special golden Lol Doll.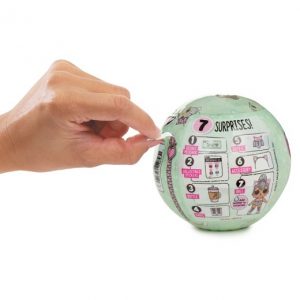 Unlike most blind bag collectables the excitement doesn't end with a single opening there are 7 layers of surprises hidden inside the ball. The first layer is an emoji sticker which gives a clue to which doll is hidden in the ball. The second layer is a sheet of stickers which represent which water action your doll will perform, this can be either spit, wee, cry or change colour. The third surprise is baby's bottle with which you feed it water to enable it to perform the aforementioned actions. Surprise four is a cute little pair of shoes, the fifth surprise is clothing and surprise six is an accessory to complete the outfit. Finally, the seventh layer is the doll.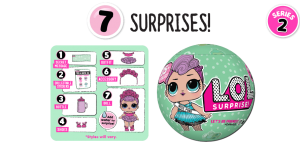 Again as with series 1, LA really likes the LOL dolls, however, from looking at it from a parents point of view, I am still really too impressed by them and I don't think they offer value for money at all. The ball turns into a feeding table for the doll but for it to fit with the tabletop on you have to remove the dolls clothes. Whilst this is only a minor grumble with a price point of £9.99 as the provider of funds I would expect this little detail would have been taken into account during design and manufacture. Although the seat doesn't work as a table the ball does work well as a display stand.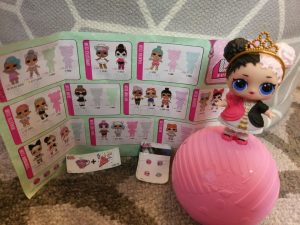 A redeeming feature of series 2 is that the clothing feels a lot more appropriate than it did with series 1, with less revealing outfits, call me old fashioned but in my mind, there is no need for a baby doll to wear a french maid outfit. I really hoped that the Lol Suprise Doll series 2 would have improved from series 1 however I was was very disappointed to find that other than the outfits nothing had really changed.
Having said that does it really matter what I think as long as they make LA happy and don't cause her any harm, they obviously won't be a weekly purchase as a zomling would be but as a treat every now and again.
Disclaimer: I was provided with this L.O.L surprise Doll for the purposes of this review, however, all words are my own.